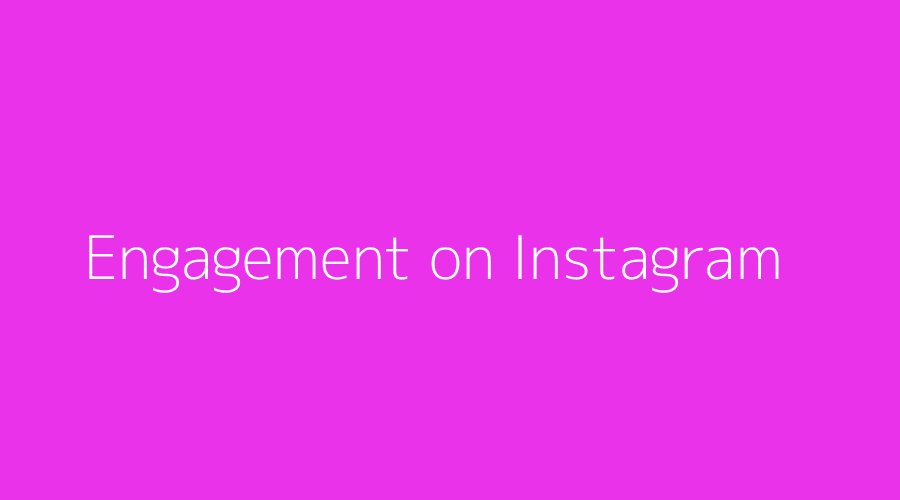 25 strategies to increase engagement on Instagram
25 strategies to increase engagement on Instagram
---
Today, in this article, we are going to focus on how to create engagement on Instagram. I will tell you 25 tips that will help you increase engagement on this social network that is a boom today.
Create an attractive profile
Over there they say that the first impression counts, and on social networks, it is totally true. Rather, in marketing the appearance of the channels counts a lot, it is something vital that cannot be neglected. 
Have a business profile account

Make sure your username is appropriate for your brand

Write in the biography description, a brief summary of your business or the services you offer.

Add keywords of your sector that allow to be visible in searches

Add emojis

Put the url to which you are going to direct your traffic, if you have a web page, add it so that users enter with just one click. 
Interact with the url of the biography
You can change it as many times as you want, but the idea is that you change it when you go to indicate to your followers that they should go there. 
For example, you make a post in which you announce a new contest, in the post description you tell them that the link is found in the biography or better known as the bio. 
So the follower only goes to the beginning of your profile and enters the link, this leads directly to the contest. Why not publish it in the post? Because in Instagram you cannot make hyperlinks, you can put the link but they will not be able to copy it, nor will they be able to enter.
Therefore, do not forget to always announce that it will be in the bio and obviously, put the correct link so that users go directly to it. 
Find your own style
Each brand has a language with which it communicates with its customers, it is not another language, it is just a tone and an imprint that your communication has, it is what you identify with and that is how they recognize you. 
Keep a pattern in the posts
It is about having an established font, certain colors for certain types of publications. For what? so that the user easily recognizes that this publication is yours. 
This allows not only to be recognized, but to maintain a quality standard in your profile and in your brand. Therefore, never forget to put your logo in each publication. 
Define a publication calendar
Establish a schedule specifying the day and time of publication. Currently there are tools that allow you to program, so you don't have to do it that day and at that time. 
This will help you maintain a frequency of content, so that followers already know more or less what time to see your posts. 
Try to post 1 0 2 times a day
Why? The new algorithm of Instagram values ​​the engagement on the temporality of the publication, that is, that publishing with such a daily frequency is not going to help us, just to keep updated.
On the other hand, if we publish many times, our publications would be competing with each other to have more engagement.
For that there are stories, which are the ones that help you stay updated among so many accounts.
Post in active hours
Try and find out what times your niche is most active. This way you will avoid that your post is last and nobody sees it. And if everyone sees you when they are active, the more engagement you will have. 
Choose the correct hashtags
Hashtags are of vital importance when increasing the visibility of your Instagram, so look for the keywords of each topic and choose the most suitable ones. 
But, do not overdo it, choose between 3 and 7 hashtags for publication, if you go over there you will be everywhere and nobody will know which side you belong to, and worse still, it becomes a bit annoying for followers. 
Not to mention, you can be penalized or spammed for having so many hashtags. 
Use emojis, but properly
Emojis help a lot when communicating, because they better express what you want to say. But, just like hashtags, you should be careful not to overdo it. Use only what you need and allow your message to be more attractive. 
Avoid bots
Instagram, like any other social network, has certain conditions, that if you do not meet them you may be penalized. So watch out! Don't start looking for bots to get followers on Instagram. 
The IG algorithm distinguishes real users from "robot users", so little by little you will realize that your posts will not appear in the explore section and worse, they will penalize you. 
Use the Stories
The truth is that I have seen many accounts that have very good content but little interaction, this is because the stories are left aside. Some people only see the stories and you don't see the posts.
Why? Imagine creating a good post, but it is so low that your customers cannot see it. Especially when you still don't have enough engagement. 
The stories make it easier for followers to know that you are active, that you have new posts, and that you have varied content and you do not always stay the same, which is very important so that users do not abandon you. 
Learn to combine the posts with the stories, add locations, photos, images, music, videos, gifs, memes, be creative that this tool allows you to be. 
Make Featured Stories
The featured stories are those that stay in our profile within a circle. As well? Remember that the stories are only visible 24 hours, with the highlights you can add them in a section that remain forever, like the posts.
They work as folders, you create one, you give it a name and you can save the most important posts in each of the folders. Maintain an order and learn to divide topics so that your followers can find what they are looking for.
Don't forget the videos
Videos are the most viewed thing on social networks, and you cannot be left behind with this mega engagement strategy.
Some studies say that videos help increase emotional bonding. Videos are sometimes more engaging than a picture or a few simple words.
Create short, varied videos that excite or contribute something to users. You can make videos of tips, memes, motivation, premiere announcements, promotion of contests, in short. There is much to choose and do.
Use IGTV
IGTV has become more common in the last year, previously you could only watch 1-minute videos, now you can see a lot on IGTV. 
Add video tutorials, webinars, interviews, podcasts, etc. to your IGTV. Keep an attractive visual, because if YouTube is difficult for them to see the entire video, here it is too. Especially since it is a social network where everything enters through the eyes. 
Write entertaining captions or copys
Avoid writing long descriptions, unless you are going to explain one step at a time, but even so that should be separated by numbers and emojis to make it clearer. 
The best thing is that you completely omit such long texts. Write with humor, or with reflection, depending on the type of post. But what you should do is try to get them to read the whole post. 
The first two lines are the most important, so look for them to be the most attractive for followers to finish reading. Amuse your followers, leave them thinking, ask them questions and invite them to interact with you. 
Participate in mass conversations
Be sure to respond to their comments, as I have always said, if it is good, thank, if it is bad, accept it, do not take it personally and offer a solution. 
If they are having a conversation within the comments, go into them and chat with them. 
Do live or lives
This is one of the best ways to attract more users and keep yours with you. Invite them to participate in the lives so they can comment, ask and comment. 
Create a good live session strategy, in which you can cover a whole topic and make their participation visible and take them into account. 
Ask them questions
In the posts you can ask them questions that motivate them to comment and comment. The idea is that they are forced to comment, so don't ask any kind of question.
Another very good way to ask is through stories ... in them you can start a conversation with your followers. You put an image or you put a conversation topic and enable the opinion option.
Or, also survey them or ask them what they prefer. Tinker with the options of the stories and you will realize that they are practically made for everyone to comment. 
Comment on your followers' posts 
Enter the profile of your followers, like the best publications and comment something that adds value to that user. 
This will make your followers' followers see you, take an interest in you and follow you. And above all, it will make your follower love you, because he feels important for being valued by you or for knowing that you are interested in him. 
Organize contests and giveaways
When you already have at least 1,000 followers, start contests that help not only generate engagement with the followers you already have, but also attract new followers. 
For example: 
Reward the top 5 likes of a post

Ask them to mention 5 friends to participate in the contest

Ask them to make a repost on their profiles and stories 

Ask a question and reward the best answer

Ask them to mention a hashtag in their responses for greater visibility
Rather, be creative that you can come up with better ideas than mine. The important thing is that you are original and that you offer things that are related to your business. 
He names ambassadors
Choose the most loyal followers and make them ambassadors of your brand, that is, they carry your product and take it to others, or work with you in a certain way. 
It is a strategy that will help you to have a greater reach, to be more seen, to be better seen, to speak well of you, to be recommended and tagged in other profiles. 
Include calls to action in your posts and stories
You can, for example, include in your stories the link option, which allows you to take them to your website. Also increasing the traffic of your website. 
Or you can also invite them to watch your IGTV, or go to your YouTube channel to subscribe. Play around with those options and make calls to action. Ask and it will be granted. 
Ask your followers to create content
The idea in this strategy is that, you promote the content of your followers, ask them to do something very creative (you put the topic), and that the top 5 will be posted on your profile. 
Make your followers the protagonists of your profile. I assure you that this will increase not only engagement but also trust and recognition of your brand. 
Hide the photos that tag you 
Activate the option to hide photos, and in the settings, click on the option to be labeled only with your consent. That option is found in "photos that appear" and then "add manually". 
Why? You can prevent malicious users or spammers from uploading nasty posts, talking bad about you or slandering you and tagging you and your followers can see it. 
So it is best to prevent rather than regret. 
Learn from your results
Any strategy that cannot be measured will never be of any use. Fortunately, Instagram has the wonderful option of giving us the analytics or statistics of our posts.
So take advantage of that and check what is giving you results and what is not, and what new things you can create.  
What other strategy do you think would work? Tell us in the comments about the answer, and write us which one you think is the one that generates the most engagement.
Share the article on your social networks, the idea is that we all learn something new every day to improve our online business.
Thanks always for reading us.